THE BUILDINGS -
BULMARKET OFFICE CENTER is a class "В" building.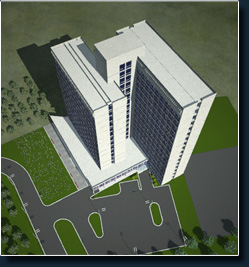 BULMARKET OFFICE CENTER consists of two connected buildings with a total spread out built-up area of 21 478 sq.m. and adjoining terrain of 9 984 sq.m.
The buildings are already built-up.
Permission for use is issued.
Currently, a renovation is performed:
change in the premises purpose
reconstruction
change of the heating system
change of the air conditioning system
change of the sewage-water system
change of the power supply system
change of the communication installation
change of the elevators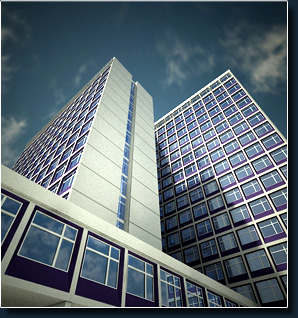 In the ground floors of both buildings with areas respectively by 806 and 703 sq. meters will be built:
Restaurant with VIP hall
Lobby bar
Shops
Restoration centre
Fitness centre
Hairdresser and cosmetic saloon
Bank and insurance office
Premises for security and personnelс
Pharmacy
Postal office
Other servicing premises and offices
In the adjoining terrain of the Office Centre are being built two parking lots with a capacity of 324 parking places.
The basement sections of both buildings could be reconstructed as a shooting ground, swimming pool and warehouse areas.
The allocation of the premises in the buildings is "Open space" type, giving a possibility for flexible and non-standard using depending on the wishes and the needs of the clients.
Building 1
№
Fllor
Purpose
Floor area
sq. m.
Common parts
sq. m. (15%)
Living area
sq. m.
16
15

Offices

472
71
401
15
14

Offices

472
71
401
14
13

Offices

472
71
401
13
12

Offices

472
71
401
12
11

Offices

472
71
401
11
10

Offices

472
71
401
10
9

Offices

472
71
401
9
8

Offices

472
71
401
8
7

Offices

472
71
401
7
6

Offices

472
71
401
6
5

Offices

472
71
401
5
4

"Bulmarket DM"

472
71
401
4
3

"Bulmarket DM"

472
71
401
3
2

Commercial section

806
121
685
2
1

Commercial section

806
121
685
1
-1

Basement (storehouse)

806
121
685

Total

8554
1286
7268
A parking lot for 130 automobiles
Building 2
| № | Floor | Purpose | Floor area sq.m | Warm connection | Total floor area | Common parts sq.m (15%) | Living area sq.m |
| --- | --- | --- | --- | --- | --- | --- | --- |
| 18 | 17 | Offices | 651 | 69 | 721 | 108 | 543 |
| 17 | 16 | Offices | 651 | 69 | 721 | 108 | 543 |
| 16 | 15 | Offices | 651 | 69 | 721 | 108 | 543 |
| 15 | 14 | Offices | 651 | 69 | 721 | 108 | 543 |
| 14 | 13 | Offices | 651 | 69 | 721 | 108 | 543 |
| 13 | 12 | Offices | 651 | 69 | 721 | 108 | 543 |
| 12 | 11 | Offices | 651 | 69 | 721 | 108 | 543 |
| 11 | 10 | Offices | 651 | 69 | 721 | 108 | 543 |
| 10 | 9 | Offices | 651 | 69 | 721 | 108 | 543 |
| 9 | 8 | Offices | 651 | 69 | 721 | 108 | 543 |
| 8 | 7 | Offices | 651 | 69 | 721 | 108 | 543 |
| 7 | 6 | Offices | 651 | 69 | 721 | 108 | 543 |
| 6 | 5 | Offices | 651 | 69 | 721 | 108 | 543 |
| 5 | 4 | Offices | 651 | 69 | 721 | 108 | 543 |
| 4 | 3 | "Bulmarket DM" | 651 | 69 | 721 | 108 | 543 |
| 3 | 2 | "Bulmarket DM" | 703 | - | 703 | 105 | 598 |
| 2 | 1 | Commercial section | 703 | - | 703 | 105 | 598 |
| 1 | -1 | Basement (storehouse) | 703 | - | 703 | 105 | 598 |
| | | Total | 11874 | 1035 | 12924 | 1939 | 9935 |
A parking lot for 194 automobiles